High altitude mountain tours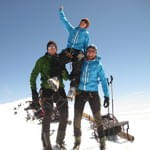 In alpine Tours we offer you courses, where you learn how to walk on ice, how to get out of a crevasse and all that you need to know to do easy alpine tours by yourself.
You want to climb the Grossglockner? Or be on one of the 4000m peaks in Switzerland? Or climb the Königsspitze in Südtirol? Or even stand on the top of Europe? We have the guide for you and even equipment if you need it!
Just contact us for further details under: office@alpincenter-wildschoenau.at