Freeriding
Skifahren abseits der Piste mit staatlich geprüftem Berg- und Skiführer. Wir fahren da hin, wo der Schnee gut ist!!
Freeriden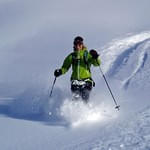 place
Wildschönau
requirements:
good skitouring skills
price:
73 Euro/day

dates:

27.12.2014
29.12.2014
02.01.2015
04.01.2015
18.01.2015
24.01.2015
07.02.2015
14.02.2015
You will experience the freeride possibilities of the Skijuwel with a certified mountain guide. Equipped with your safety equipment (shovel, probe and avalanche transceiver) you will go offpiste/Backcountry to find fresh powder!